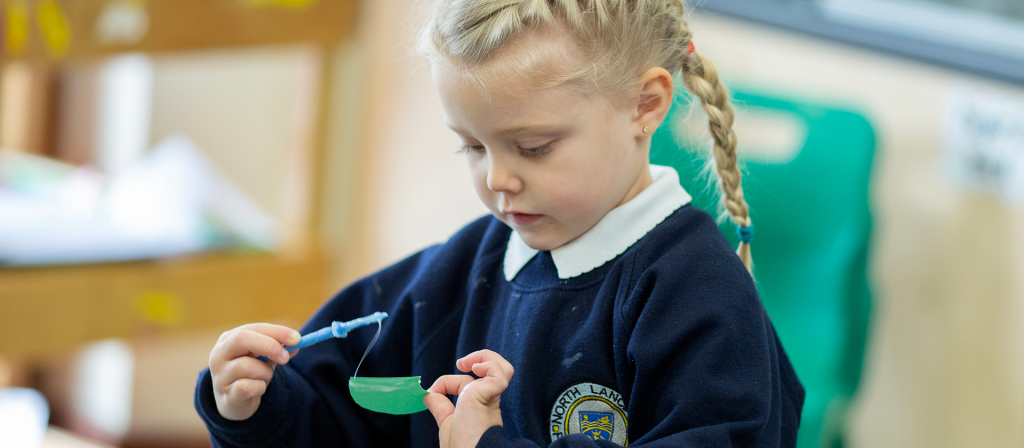 Intent
At North Lancing Primary School, we believe it is important to provide our children with a broad and enriching curriculum. Alongside the core subjects we also have a strong emphasis on foundation subjects, such as Art. Teachers provide a high-quality art education which engages, inspires and challenges pupils, equipping them with the knowledge and skills to experiment, invent and create their own works of art, craft and design using a wide range of media and materials.
Implementation
Children are given the opportunity to develop their skills of the different areas of Art, including drawing, painting, printing, collage, textiles, 3D work and digital art. They are also encouraged to develop their knowledge about a range of Art work, learn key vocabulary and use their skills and knowledge in depth. Much of this is inspired by learning about the work of great artists, designers, architects and crafts makers. Children use their sketchbooks for experimenting, designing, sketching and practising techniques. Final pieces of artwork produced are shared or displayed at the end of a topic. Some pieces are framed and displayed on our Art gallery walls. The art curriculum is often cross curricular and links to topics, this enables children to use their skills in a range of subjects.
Impact
We celebrate children's Art by sharing and showcasing with their peers, teachers and the wider school. Learning is demonstrated through the planned outcomes for all children and the techniques and skills taught and practised in achieving these final pieces. Learning is also shown through questioning, discussion and reflection.
By the end of their time at North Lancing Primary School, children can:
Communicate an idea through drawing
Express themselves though drawing, making, printmaking and sketchbooks
Understand and use colour,
Have been introduced and show basic competency in the use of tools including: scissors, glue-guns, paint brushes, needles
Understand basic materials behaviour including metal, wood, plastic, natural materials, Modroc, clay, felt,
Sew,
Construct – explore sculpture and communicate an idea through making,
Illustrate,
Animate,
Design a poster for an event, or packing for a product,
Solve a problem through invention
Take risks, experiment, explore, imagine, interpret, play, and communicate.